Fixing the planet one gadget at a time
See on Scoop.it – Greening the Media Ecosystem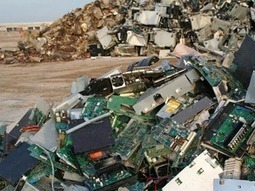 Use devices as long as possible
Maintaining and repairing devices dramatically improves their usable lifespan. If we worked together and doubled the length of time the average piece of electronics was used, we could halve the amount of e-waste created. If we take care of our devices and fix them when they break, we can do a lot better than that.
You have a responsibility to humanity to keep things working as long as possible and to dispose of them properly. Being responsible is easy: Sell or donate stuff you no longer need to people who can reuse it. Repair things you can still use, and recycle it when there's no use left.
Antonio Lopez's insight:
The ifixit.com folks have it right. We need to take greater responsibility for our personal media gadgets. But in addition to this DIY approach to repair, we also need to work on re-structuring the system that encourages toxic consumer culture. Forcing companies to take back their gadgets, making it easier to fix and repair, passing laws that protect workers and environmental systems–these are all steps that need to be taken beyond individual action.
See on www.ifixit.com