Al Gore & Jon Stewart debate climate change and Al-Jazeera
See on Scoop.it – Greening the Media Ecosystem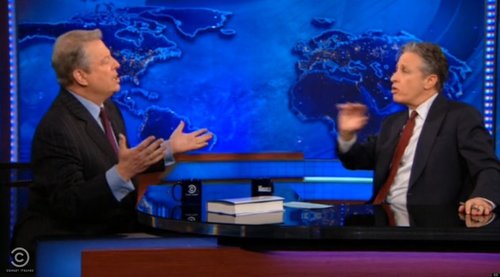 Al Gore appeared on "The Daily Show" Wednesday night and was immediately asked about his former network's sale to Al Jazeera.
Antonio Lopez's insight:
As you probably know, Al Gore sold Current TV to Al Jazeera. He's been getting flack because of Al-Jazeera's ties to Qatar, the oil kingdom that's part of the climate change problem. But to be fair, Al Jazeera is far better on climate issues than any of the other TV networks in the US. The truth is, all TV networks are tied into the carbon economy, one way or another Even News Corp., which claims to be carbon neutral, is heavily invested and ideologically aligned with the carbon economy. Frankly, anyone who uses media to communicate sustainability can potentially be called a hypocrite. The media we have is toxic and one can't be pure. This is not to say we shouldn't try, but we have to work with what we have to transition into a carbon-reduced future.
See on www.huffingtonpost.com