Infographic on how snack foods cause rainforest destruction
See on Scoop.it – Greening the Media Ecosystem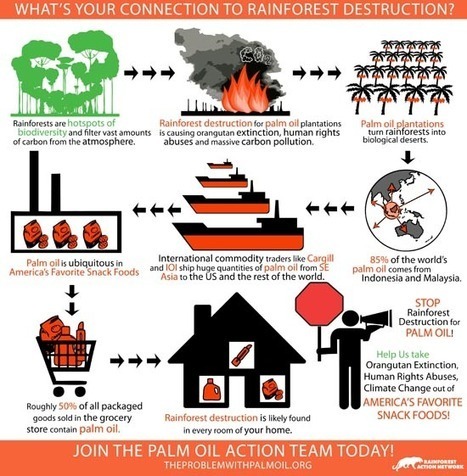 Palm oil touches our lives every time we take a trip to the supermarket. Palm oil and its derivatives are used in a ubiquitous array of packaged foods, including ice cream, cookies, crackers, chocolate products, cereals, breakfast bars, cake mixes, doughnuts, potato chips, instant noodles, frozen sweets and meals, baby formula, margarine, and dry and canned soups.
In the U.S. alone, palm oil imports by companies like Cargill and IOI have jumped 485% in the last decade. The dramatic and growing demand for this crop in recent decades has pushed sprawling palm oil plantations deep into some of the world's most valuable rainforests. Palm oil production is now one of the leading causes of rainforest destruction around the globe.
Antonio Lopez's insight:
Excellent use of simple visuals to tell complex story of rain forest destruction.
See on understory.ran.org