Media Mindfulness: navigating the ambient commons
See on Scoop.it – Media Mindfulness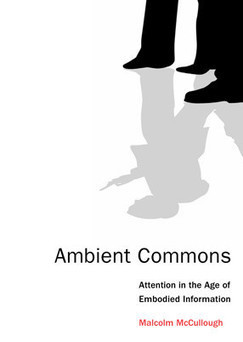 In Ambient Commons, Malcolm McCullough explores the workings of attention though a rediscovery of surroundings. Not all that informs has been written and sent; not all attention involves deliberate thought. The intrinsic structure of space–the layout of a studio, for example, or a plaza–becomes part of any mental engagement with it. Without claiming how neuroscience proves "we" think this way or that, this book may help you understand embodied cognition. McCullough describes what he calls the Ambient: an increasing tendency to perceive information superabundance whole, where individual signals matter less, and at least some mediation assumes inhabitable form. He explores how the fixed forms of architecture and the city play a cognitive role in the the flow of ambient information. As a persistently inhabited world, can the Ambient be understood as a shared cultural resource, to be socially curated, voluntarily limited, and self-governed as if a commons? Ambient Commons invites you to look past current obsessions with smart phones to rethink attention itself, to care for more situated, often inescapable forms of information.
Antonio Lopez's insight:
Malcolm McCullough's Digital Ground is one of the best books on contemporary computing–he is quite literally one of the most grounded writers of the digital era. I haven't yet finished his most recent, Ambient Commons, but I'm already digging his idea of information environmentalism.
See on ambientcommons.org